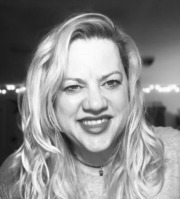 Real Estate Advisor
623-380-0422 Cell
Katy is extremely dedicated to her craft. After serving as a teacher for 16 years, her transition into real estate proves to be her true calling. Her greatest asset is providing comfortability and ease for her clients throughout the entire buying/selling process. Katy works diligently to make certain your experience is top notch. 

As a life-long athlete, Katy knows the importance of dedication. Katy played volleyball in college on a full-ride scholarship while receiving a degree in television broadcasting and journalism. She continues to compete in competitive sports and is a world competitor in The Highland Games. Ask her about it. 

Hard work and dedication come naturally to Katy and communication is a key aspect to her business. As a teacher, she received a masters degree in administration and ended her career as an instructional coach before delving into her real estate business. She continuously educates herself, not only for her own knowledge, but to provide the best possible service for her clients. 
"Get Your Keys From Katy." You won't regret it.