Robert Clarfield
the Flying Realtor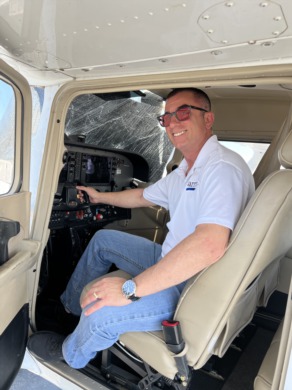 Rob the Flying Realtor -- Reviews and Recent listings 
Robert Clarfield is a high-flying agent with his head in the clouds. From the pilot's chair of a small airplane, he literally takes to the skies for his clients. Customers, though, most know Robert for his responsiveness and open communication, especially in a market where a missed phone call could mean a missed opportunity to secure a coveted property. "I'm always trying to be there for the buyer's agents, as well as, of course, my clients," he says. "If I'm working on selling a property, I keep my seller updated on everything–how many showings we've had that day, which one was good, and really make sure that I keep in constant contact with them." Unraveling the mysteries of the process for a new homebuyer gets Robert's juices flowing.
 Robert brings to real estate both a technical and creative perspective gained from a lifetime of studying his passions. A former tech project manager, he took up real estate part time 15 years ago to feel confident as a rental investor. All the while, he was in the cockpit learning to fly, mastering martial arts, and competing as a bodybuilder. "I decided that real estate was my love," he says. "And I really enjoyed helping new homebuyers and investors find properties." Two years ago, he took on real estate full time and today found his home at ARRT of Real Estate in Scottsdale. 
Flying figures largely into Robert's life and his practice. As a former volunteer with the Civil Air Patrol, he flew search-and-rescue missions across the state. His goal is to obtain his commercial pilot's license to be able to fly clients all over Arizona to see properties. "Let's say they're coming in from California or New York, and they're not sure exactly where in AZ they want to end up. Maybe they want a second home in Sedona or out in Prescott," he says. "I'll be able to fly them around, let them see the area, get used to the area and figure out where they want to end up." Already, the agent visits past clients on jaunts to distant parts of the state.
Robert's adaptability allows him to see opportunity where others may see a roadblock. In a particular case, he listed a hard to sell styled home that was slow to get attention. He marketed the property as he does others, MLS, social media, email. After more consideration, he shifted to promote the home in a Facebook group where the property's eccentric style would be appreciated. "Sometimes you just have to think outside the box," he says.
Robert sees clear skies ahead. He will not stop at adding home-visit flights to his regimen. Within the next two years, he says, he will be joined by his wife, who already has her real estate license.  Also, Robert is a  partner with Arrt of Real Estate.